Frequently Asked Questions
Get answers to the questions most frequently asked about running the Jinshanling Great Wall 100.
The deadline to register for the race is 2-weeks before the race date, for the 2023 race registration will close on September 29, 2023. Due to event planning and logistics, we are not able to accept registration entries after this date. Sorry, no exceptions.
Register to secure your spot!
WHAT IS THE AGE REQUIREMENT?
100K: 18-60 years old by the race date
50K/30K: 18-65 years old by the race date
10K: 12-65 years old by the race date
WHAT ARE THE ELIGIBILITY REQUIREMENTS?
100K participants must have a certificate of completion or proof of cross-country race of 50K and above.
50K participants must have a certificate of completion or proof of cross-country race of 30K and above or completion of two half marathons or above on road running events.
30K/10K, no requirements.
The race will start and finish at the main entrance to the Jinshanling Great Wall Scenic Area. The 100K race will begin at the Yunhuan Hotel at the Jinshanling International Ski Resort.
电话 TEL: 0314-8830222
地址 ADDRESS: 河北省承德市滦平县巴克什营镇花楼沟村
HOW TO GET TO THE RACE?
All participants need to drive or arrange transportation on their own to the race location. Take the Beijing-Chengde Expressway (G45 Daguang Expressway) and exit at the Jinshanling Great Wall Exit. Turn right and follow the signs on the front to reach the Jinshanling Great Wall Scenic Area entrance.
WHAT IS INCLUDED WITH THE RACE ENTRY?
| Category | 100K | 50K | 30K | 10K |
| --- | --- | --- | --- | --- |
| Entry Package | 1 | 1 | 1 | 1 |
| Competition Shirt | 1 | 1 | 1 | 1 |
| Competition Hat | 1 | 1 | 1 | 1 |
| Entry Bracelet | 1 | 1 | 1 | 1 |
| Bib | 1 | 1 | 1 | 1 |
| Energy Food | 2 | 2 | 1 | 1 |
| Finisher Medal | 1 | 1 | 1 | 1 |
| Finisher Hoodie | 1 | - | - | - |
| Outdoor Bag | - | 1 | - | - |
| Bath Towel | - | - | 1 | - |
| Race Towel | - | - | - | 1 |
IS INSURANCE REQUIRED?
The event has general insurance coverage. However, it is strongly recommended that all participants obtain personal injury insurance coverage for the event on their own.
WHAT ARE THE CUT-OFF TIMES?
Race time limits are as follows:
28-Hours - 100K
14-Hours - 50K
8.5-Hours - 30K
3-Hours - 10K
TOP FINISHER PRIZES
The top 10 male and female runners of the 100K, 50K, and 30K will receive the top finisher pool, while the top 3 will also receive prize goodies and a placement trophy. Final prize details to be finalized before the race.
Category
1st place
2nd place
3rd place
4-10th place
100K
¥5000
¥3000
¥2000
¥500
Tournament trophy & prize gifts
-
50K
¥3000
¥2000
¥1000
¥300
Tournament trophy & prize gifts
-
30K
¥2000
¥1500
¥1000
¥200
Tournament trophy & prize gifts
-
10K
Tournament trophy & prize gifts
-
WHAT SHOULD I PREPARE FOR THE RACE?
The Jingshanling Great Wall 100 is trying to be as green as possible have minimal environmental waste. Please help us by bringing your own water bottle or hydration pack for the race. You can refill water on the course stations.  Below you will find a list of mandatory items for running the race.
| Item# | Equipment | 100K | 50K | 30K | 10K |
| --- | --- | --- | --- | --- | --- |
| 1 | Backpack to accommodate all mandatory equipment | X | X | X | Suggested |
| 2 | Water bottle or hydration pack with minimum capacity of 1 liter | X | X | X | Suggested |
| 3 | Energy foods (gels, bars, etc) | 800 calories | 500 calories | 500 calories | - |
| 4 | Portable water bottle or hydration pack | X | X | X | X |
| 5 | Smart phone and power bank | X | X | X | X |
| 6 | First aid blanket (no less than 1.3m x 2.1m) | X | X | X | X |
| 7 | Whistle | X | X | X | - |
| 8 | Elastic bandage tape (not less than 100cm x 5cm) | X | X | X | - |
| 9 | Sterile applicator (not less than 10cm x 10cm) | X | X | X | - |
| 10 | Windproof, waterproof, breathable material hooded jacket | X | X | X | Suggested |
| 11 | Long-sleeve warm top (it is recommended to keep fleece or wool) | X | X | - | - |
| 12 | Sports trousers, full-length leggings, or shorts and over-the-knee leggings combination | X | X | - | - |
| 13 | Extra warmth layer (fleece, compression down jacket) | Suggested | - | - | - |
| 14 | Full-finger gloves | Suggested | - | - | - |
| 15 | Warm hat | Suggested | - | - | - |
| 16 | Light source (headlamp or flashlight with spare battery) | 2 pc | 1 pc | - | - |
Note: The organizing committee has the right to make additional mandatory safety equipment types based on weather conditions before the race.
In the 100K category, a change-up point will be setup at Check Point 7 (CP7) where participants can store additional warm equipment.
WILL THERE BE AID-STATIONS ON THE COURSE?
Yes. There are multiple stations on the course ranging from 2 to 10 stations depending on which course you run. Study the course page for details.
WHAT TYPE OF WEATHER IS EXPECTED?
October is the cooler Fall season and the typical weather is cold mornings with cool to warming during the day. Expect temperatures ranging from 1ºC-16ºC (34ºF-60ºF). We recommend checking the weather forecast a week before the race so you can dress appropriately.
CAN I WEAR HEADPHONES?
For your safety and the safety of all participants, we do not recommend wearing headphones while running a race. However, if you do, we ask that you keep the volume down at a safe level so you can hear other runners and instructions from event personnel. It is important for you to be aware of other people coming up behind you. The important thing is paying attention to everyone's safety and maintaining basic race etiquette with other runners.
IS THIS DIFFERENT FROM THE OTHER GREAT WALL RACES?
Yes, there are multiple Great Wall endurance events that take place every year. Of the other races that take place on the Great Wall, this race is known to be the most challenging and rewarding for participants. Featuring the most varied terrain and course with sections of the wall in their original, crumbling condition which requires extra careful attention by participants as they traverse the ancient history of the Great Wall of China. Additional sections of the course take runners off the wall onto trails and pathways through the natural mountain and scenery surrounding the Great Wall. This gives runners new perspectives and a greater variety of scenery to enjoy!
ARE THERE HEALTH REQUIREMENTS?
Yes, you must be in good health and fit condition to participate in this challenging race. The organizing committee reserves the right to refuse entrants who are at risk of including those with heart disease, hypertension, diabetes mellitus, or other potential health risks.
The following diseases or conditions are not suitable for participating in the race:
Congenital heart disease or rheumatic heart disease
Hypertension or cerebrovascular diseases
Myocarditis or other heart diseases
Coronary artery disease or severe arrhythmia
Diabetics with high or low blood sugar
Pregnant women
Other diseases that are not suitable for exercise
It is recommended that participants undergo a physical examination by a medical institution for a clean bill of health
Drinking is forbidden for all participants before the race. Smoking is forbidden at the Great Wall. Please respect the national park and do not litter the environment.
There are also COVID-19 health requirements for traveling to China and the race. Currently, China requires proof of dual negative COVID-19 test results for a Health Declaration Certificate (HDC) QR code before boarding any plane to China. The tests must be completed no more than 48-hours prior to departure and submitted to the local Chinese embassy or consulate.
Please check your local Chinese Embassy website for up-to-date requirements.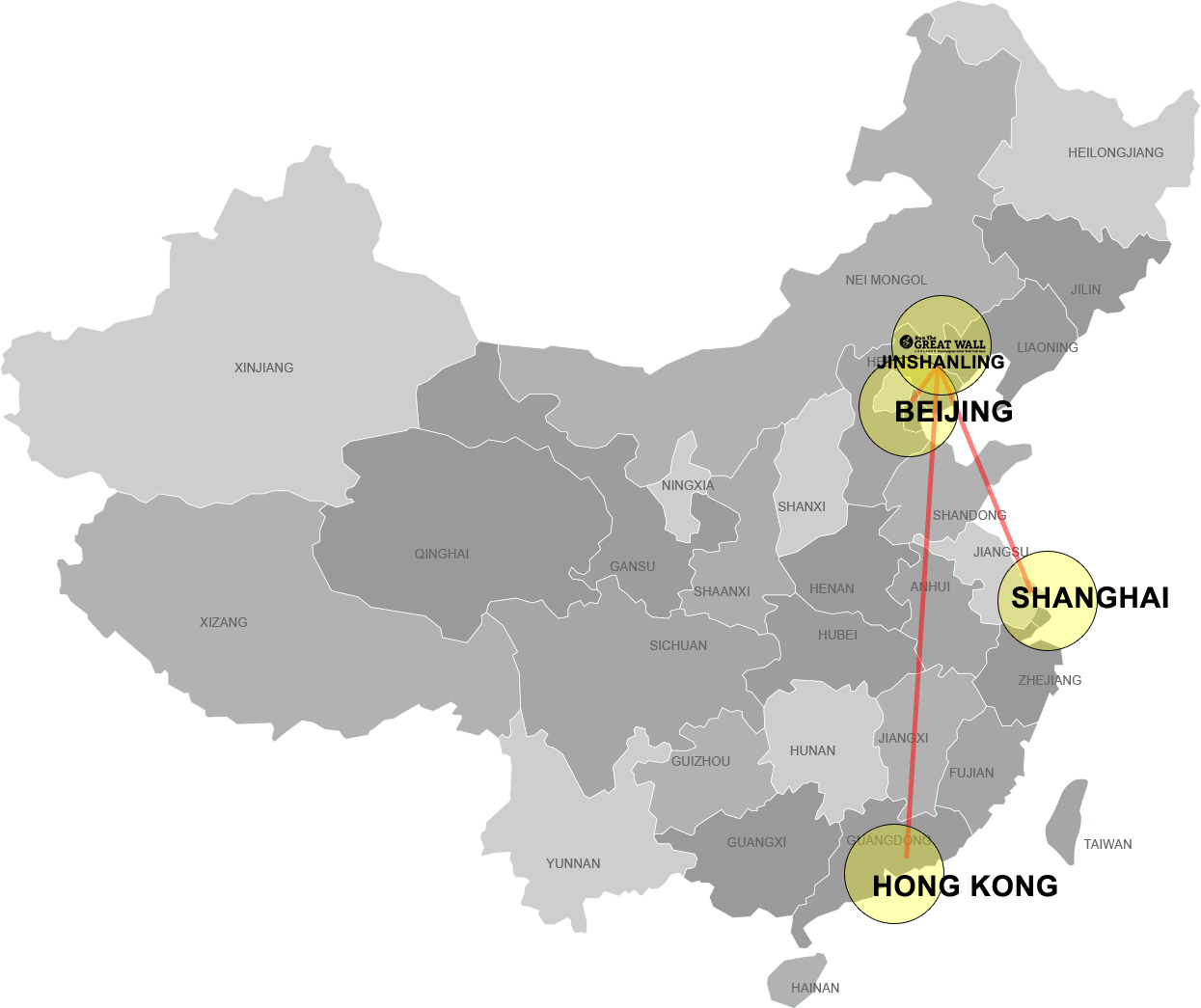 DO I NEED A TRAVEL VISA?
Yes. A China travel visa is required for foreigners to enter the country. If you haven't applied for your visa, we recommend that you do so right away. It is best to apply early rather than risk missing out.
When applying be sure to provide in advance your flight itinerary and hotel details.
Almost all non-Chinese nationals will need a visa to enter China. There are different visa categories and you will most likely need a tourist visa (L). Please contact your local Chinese embassy or consulate for more information. The procedure normally requires submitting a visa application form, paying a fee and providing the Chinese authorities with an authorized flight itinerary from your travel agent. This process takes about one to two weeks. Note that your passport must be valid for at least six months after entry. For more information please visit the Chinese Embassy website.
CAN I DO PROMOTION AT THE RACE?
No. The race takes place on an international landmark in China. Participants are not allowed to have any activity or promote politics, religion, race, or human rights issues. Please respect the China requirements and laws.
WILL THE RACE BE CANCELED DUE TO RAIN?
No. Unless there is severe weather on the days before and on the race day, the race will be held whether it's sunny, raining, snowing or anything in between. The weather only adds to the adventure to make for a great bucket list race experience!
Yes. Distance change requests are available, the cut-off for all changes is September 29, 2023. Submit a change request from the contact page.
Request Distance Change
The deadline to cancel an entry is September 22, 2023, 50% of fees will be refunded to anyone who submits a cancellation request before this deadline. After September 22, 2023, no refunds are available and entries are non-transferable.
Packet pick-up must match the entry name and ID. Sorry, no exceptions. Due to race logistics and planning, you will not receive a refund if you cannot participate.
If the event is canceled due to force majeure, then participants will be deferred to the following year or can be partially refunded upon request.  Specific refund amounts will be notified separately.
Please submit a cancellation request from the contact page.
Submit Cancellation Notice
Can't find the answer to your question? Contact us with your question and we'll respond as soon as we can. 
Please note that event information here represents what is planned for the event. Locations, schedules, adjustments, and changes may apply depending on conditions, availability, late participation entries, and improvements. The event strives to improve for the best experience.